Skip to Content
Mobile Auto Glass Replacement in Jacksonville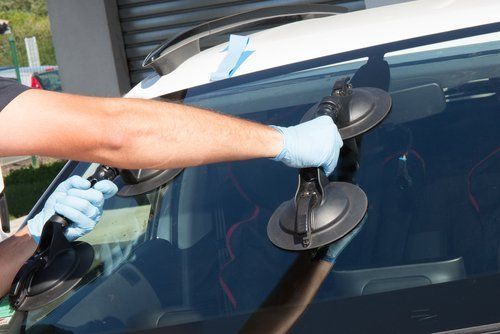 Don't Take Your Car to a Shop! Baker Comes to You for Mobile Glass Replacement
Mobile glass repair and mobile glass replacement are great services for people on the go. At Baker Glass in Jacksonville FL, we understand that your time is valuable. When you aren't at work, you want to spend time with friends and family, not sitting around a shop waiting for your auto glass to be fixed or replaced. That is why our expert technicians come to you. Whether you are at work or enjoying a meal at a restaurant, we will come to your vehicle and have you ready to go quickly. Locally owned and operated Baker Glass is the only call you need to make for mobile glass repair and mobile glass installation in the Jacksonville FL area. Nobody treats you better!
Why Get Mobile Glass Repair or Mobile Glass Installation?
Even a small crack in your windshield can quickly turn into a big problem. First and foremost, it is a safety issue. Trying to see through a cracked windshield is very dangerous and can lead to injury or death in an accident.
It is against the law in Florida to drive with a cracked or broken windshield. This is a primary offense, which means you do not have to break any traffic laws for police or highway patrol to pull you over. You can be pulled over and can receive a ticket if law enforcement determines that your vehicle is unsafe in any way, which includes cracked or broken glass.
Drive safely and avoid the expense of a traffic citation by calling Baker Glass today at 904-413-9764 or 904-800-9656!
The Baker Glass expert technicians will come to you anywhere in the following Florida areas: Jacksonville, Mandarin, Orange Park, Lakeside, Middleburg, Fleming Island, Jacksonville Beaches, Ponte Vedra, Nocatee, Atlantic Beach, Mayport, Yulee, Fernandina Beach, Amelia Island, Callahan, St. Augustine, and Baker County. When you call us for mobile glass repair or mobile glass replacement, there is probably already an auto glass technician in your area.
Contact Baker Glass today for all of your mobile glass repair and mobile glass replacement needs!
Contact Baker Glass Today for Quality, Reliable, Glass Services in Northeast Florida