Skip to Content
Sliding Glass Doors for a Beautiful and Safe Home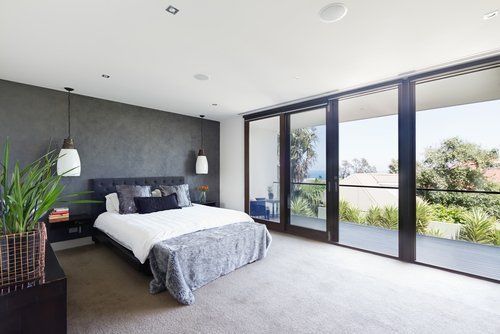 Sliding glass doors are a fantastic addition to any Jacksonville FL home. Modern glass doors come with a variety of options perfect for any home and budget. Baker Glass Inc. offers expert glass sliding door installation, maintenance, and repair. Call us today at 904-413-9764 for a free estimate!
Why Get Sliding Glass Doors?
Sliding glass doors are perfect for showing off your yard. You have worked hard to make sure the grass is green and the shrubs are well-manicured. You should be able to enjoy your efforts and show that yard to your guests. Inside pets love to look out windows, and glass sliding doors give them a great way to see the world around them.
Add natural light to your home with sliding glass doors. There's no need to turn on lights and add to your electric bill when you have free sunlight! Natural light is beautiful and can be therapeutic for many people.
You might not want all that warm sunlight during the hot Florida summers, which is why many homeowners add blinds and curtains, which help regulate temperature and can be great additions to your home décor. Effective use of blinds and curtains with glass sliding doors lets you control how much sunlight to let in your home – a little less during the summer helps you stay cool, but more sunlight during the winter can cut down on heating costs. Baker Glass Inc. offers residential glass tinting, which is a great way to further regulate sunlight.
Are Glass Doors a Safety Hazard?
Glass sliding doors are as secure as they are attractive. As with any door or window in your home, there are some steps you can take to ensure your safety. Baker Glass Inc. offers the following tips to ensure your security with glass doors:
Test your lock: Make sure the lock built into your sliding glass doors' handle works by closing your doors, engaging the lock, and then trying to open them. If you can move or open the door, the locking mechanism should be repaired or replaced.
Use a slide-locking bar: A slide-locking bar is quite simple. It is a metal bar or wood dowel that fits into the bottom track of sliding glass doors and prevents them from sliding open.
Maintain rollers and tracks: Most sliding doors move on small rollers, but if they are damaged or there is debris in the track, the door could be easily lifted off its tracks.
Install a commercial lock: These locks attach to the door and use steel bolts to keep your doors closed.
Don't forget about your alarm system: Be sure to put sensors on your sliding glass doors to set off the alarm if the doors open unexpectedly. Many burglars, however, expect these sensors and simply break the glass, which doesn't set off an alarm. Add even more security by installing shatter sensors on your glass sliding doors. If the glass breaks, the alarm goes off.
Let the Install Your Patio Doors
Contact Baker Glass Inc. in Jacksonville FL today for a free quote on glass sliding doors. Baker Glass is happy to install new sliding glass doors, replace existing ones and maintain and repair glass doors for residential and commercial glass customers. We always provide a free estimate for all of our work, including residential and commercial sliding glass doors, window replacement, glass tinting, and more. Call us today!
Contact Baker Glass Today for Quality, Reliable, Glass Services in Northeast Florida