Skip to Content
The Window Glass and Auto Windshield Repair Experts
Baker Glass, Inc. has been serving residential and commercial customers since 1993 with expert window glass replacement and mobile windshield replacement.
Did you know that today's auto glass comes embedded with a lot of technology – night vision assistance, danger sensors and more? That means auto glass repair and auto glass replacement should be left to experts. Baker Glass Inc. is a preferred vendor of auto glass in Northeast Florida, by most insurance companies. The best part? We come to you! Call today to find out more about professional auto glass repair and auto glass replacement and find out more in our blog.
Double-pane – or insulated – windows are a great investment. They keep your home comfortable and help you save money on energy bills. Sometimes, though, they fail, which leads to fogged glass you can never get clean, no matter how hard you try. Read our blog to find out what causes fogged windows, then call Baker Glass Inc. for a free estimate on fogged window replacement.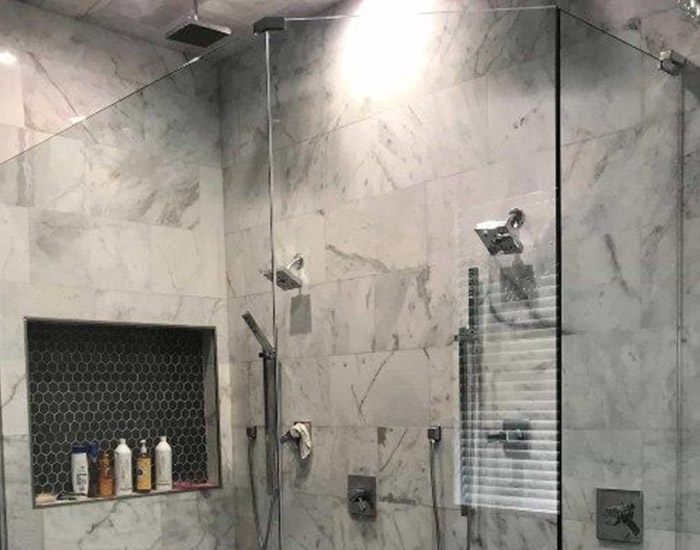 Innovative Technology
Baker Glass has the latest in modern bathroom design – frameless barn-style glass shower doors. Barn shower doors can be customized for just about any size shower. Turn your bathroom into a relaxing spa today with frameless glass doors and custom glass shower enclosures.
Service Areas
Now serving Jacksonville, Mandarin, Orange Park, Lakeside, Middleburg, Fleming Island, Jacksonville Beaches, Ponte Vedra, Nocatee, Atlantic Beach, Mayport, Yulee, Fernandina Beach, Amelia Island, Callahan, and Baker County, FL.
Our Full Range of Glass Installation and Repair Services
Locally owned and operated by Mack Peebles, Jr., Baker Glass also provides custom cut glass to order and repair power windows and door locks!
Tub & Shower Door Enclosures (Including Frameless Shower Doors)
Glass Shower Doors, Custom Shower Doors & Frameless Glass Shower Doors
Mobile Windshield Repair
Auto Glass Repair
Mirrored Walls & Doors
Patio Doors
Decorative Glass Furniture Tops
Send Us a Review!
Baker Glass, Inc. appreciates your business and our commitment is to provide quality service at an affordable price. We welcome your feedback! Please take the time to let others know about our great service and products.
Customer Reviews
Wonderful and FAST service at my Spa, Premier Medical Spa!!! Highly recommend!
Great service! Mac and the guys do a wonderful job.
Great place for anything to do with glass. Mack Peeples (the owner) very nice guy.
My rear side window in my new Nissan Sentra shattered and we do not even know why. Baker glass was able to fix it within a couple hours. Looks perfect!
Awesome people doing great quality work!! I was in and out in about an hour. I would recommend this place to everyone.
1403 Cassat Ave, Jacksonville, FL 32205, USA