Skip to Content
About Window Glass Tinting in Jacksonville, FL
Home Glass Tinting Service
When you're in search of an economical and stylish way to enhance the appearance and comfort of your home, look no further than Baker Glass in Jacksonville, FL. As premium home window tint film providers, our professionals are here to help you amplify your home's energy efficiency and value.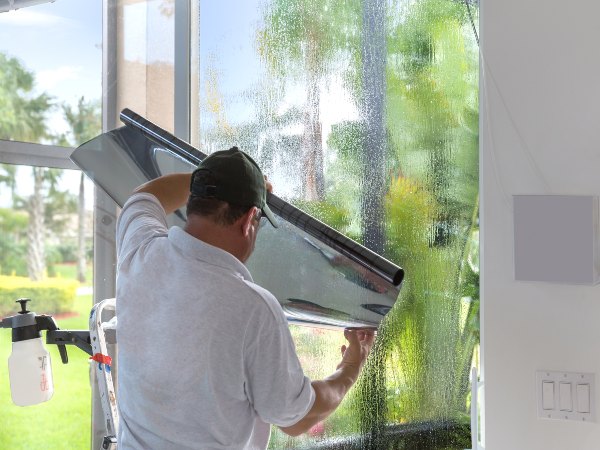 Benefits of Tinted House Windows
If you're navigating whether your home will benefit from window glass tinting, you will find the list of benefits overwhelming. Tinted house windows offer a range of aesthetic benefits and contribute greatly to the function and safety of your property, and the experts at Baker Glass are here to explain how.
Combat Extreme Sunlight & UV Rays
While the Florida sun is an excellent source of vitamin D, it can damage your health and compromise the condition of your indoor furnishings with consistent exposure. Window glass tinting helps to alleviate the impact of harsh UV rays by up to 90% without ruining your view of the beautiful outdoors.
Increase Privacy & Safety
Window tint film adds a layer of privacy, prohibiting passersby from looking into your home. Furthermore, it increases the safety of your property, not only by deterring trespassers but by strengthening the integrity and durability of your windows, preventing shards from scattering in the event your windows become impacted.
Energy Conservation
Florida heat can be intense, and when the sun is beaming into our windows, our homes can quickly rise in temperature, leading to our air conditioners working double time. Window tint film serves as an insulating barrier that decreases the heat entering your home's windows to lower your energy usage, lowering your monthly utility bills.
Glare Reduction
You may feel frustrated when trying to enjoy your favorite show and the glare from the window obstructs your view of the television. Fortunately, that can be eliminated with the addition of window tint film. Avoid having to close blinds and curtains, and enjoy your natural sunlight without a blinding glare with our help.
Low-Maintenance
Home window glass tinting is an excellent way to boost the style and comfort of your home without taking on a significant maintenance chore. Window tint film requires minimal maintenance and boasts reduced long-term maintenance as it protects indoor furnishings from premature deterioration and fading caused by UV rays.
Types of Home Window Tint Film
Several types of window tint film options serve different purposes depending on your unique needs, including the following:
Solar film
Safety film
Darkened or reflective glass film
Anti glare glass or non glare glass film
Solar Glass Film
Solar window tint film is designed to regulate the temperature inside your home while providing protection against harmful UV rays and extreme sunlight. This type of window tint film is ideal for those looking to cut energy costs while adding additional protection to deter the fading of their furniture.
Darkened or Reflective Glass Film
If privacy and enhanced security fall high on your priority list, darkened or reflective glass film is an excellent choice, as it's designed to obscure the view into your home. Furthermore, this type of film is style-flexible with different patterns, such as frosted glass, to increase your home's aesthetic flare.
Anti Glare Glass Film
If your main concern is the distracting glare that creeps into your home during the sunny hours of the day, anti glare glass film can help. This window tint film offers moderate privacy while combating glare and controlling heat.
Safety Glass Film
Safety glass film is made from thicker polyester material and can come in metalized surface designs for enhanced style. Safety glass film is beneficial to those looking to strengthen the durability of their home's windows, helping to prevent shattered glass and cracks in the event of inclement weather or attempted burglary.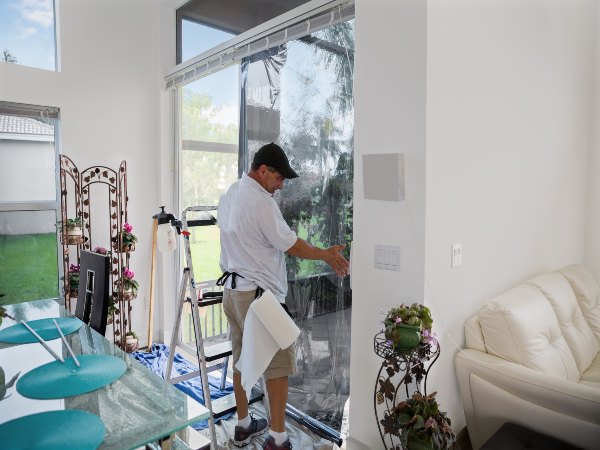 Keep Your Home Beautiful With Baker Glass
Window tint film is suitable for all types of homes. Whether you're looking for a unique style enhancement that boosts your property value and curb appeal, or you're looking for an effective way to alleviate intense heat and skyrocketing energy costs, choose Baker Glass for your home window tint film installation.
Contact Our Team at Baker Glass
Baker Glass is here to make it happen if you're ready to reap the benefits of high-quality window tint film and expert glass tinting installation services. Whether you are looking for sliding glass door tinting, commercial glass tinting, auto glass tinting, or residential tinting, we provide the service you need. Contact our friendly team for exceptional window tint film that suits your needs and budget.
Contact Baker Glass Today for Quality, Reliable, Glass Services in Northeast Florida