Skip to Content
Custom Glass Shower Enclosures in Jacksonville, FL
Custom Glass Shower Enclosures for Your Home
Custom glass shower enclosures and frameless glass shower doors provide the ideal centerpiece for your bathroom, and no one treats you better in the Jacksonville, FL, area than Baker Glass, Inc. When you add custom shower doors to the natural light that your bathroom already receives and your indoor lighting, you will improve both the space perception and beauty of your bathroom. Our experienced, highly-trained glass technicians can add the perfect shower enclosure to your bathroom with 100% satisfaction! If you're looking for a subtle way to transform style and functionality to your bathroom, Baker Glass is the place to call.
Baker Glass is proud to be Jacksonville, FL's premier dealer and installer of frameless barn-style glass shower doors. These doors are the very latest trend in modern bathroom interior design. These glass doors offer bypass sliding functionality without clunky, ugly frames!
Add Beauty and Depth to Your Bathroom
Glass shower enclosures are an elegant, yet practical, way to add both beauty and depth to your bathroom design. Baker Glass, Inc. can create custom glass shower doors or shower panels that will complement any decorating scheme or design. By adding this custom element, both the look and the feel of your bathroom will be transformed. In addition to adding beauty and depth to your bathroom, glass shower doors can also increase the resale value of your home, making them a worthwhile investment. From framed to semi-framed, and frameless new glass shower enclosures, call Baker Glass, Inc. in Jacksonville, FL, today at 904-388-9126 and request a free estimate to enhance the beauty of your bathroom.
Because we are custom designing your glass shower doors, Baker Glass has a variety of features and styles available, including frameless glass doors. Showcase your shower's design with clear glass shower enclosures and frameless glass shower doors. Frosted glass adds privacy. For even more creativity, we offer pattern and texture glass!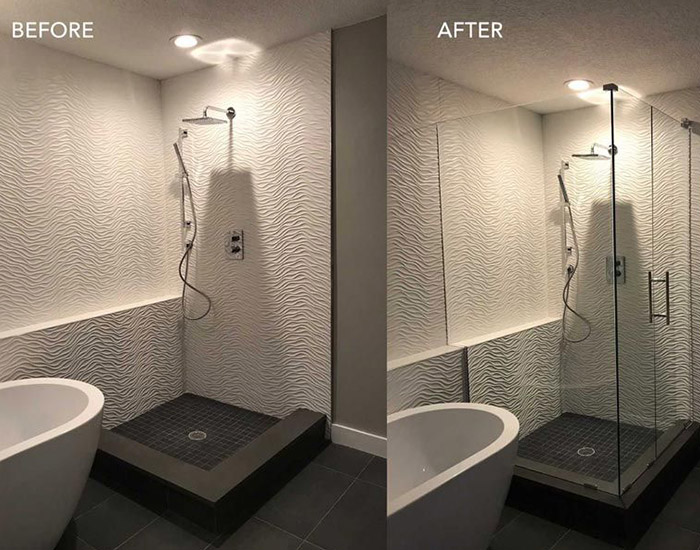 Advantages of Frameless Shower Doors
Custom glass shower enclosures deserve the beauty and functionality of frameless glass shower doors. Add even more luxury to your bathroom with frameless shower doors, which open on hinges. The lack of a metal frame gives your shower a sleek, modern look that seamlessly blends your shower into your bathroom design. With frameless glass shower doors, you never have to worry about cleaning a metal frame or mess with plastic rollers that can wear out and come off the tracks.
Request a Free Estimate
For more information about the benefits of adding custom glass shower enclosures, contact Baker Glass, Inc. today. Our experienced glass technicians can help you decide what is perfect for both your bathroom and your budget. Call 904-388-9126 or fill out the convenient contact form to request a free estimate on all residential glass services.
Contact Baker Glass Today for Quality, Reliable, Glass Services in Jacksonville