Skip to Content
Frameless Barn Style Glass Shower Doors Add Modern Beauty to Any Bathroom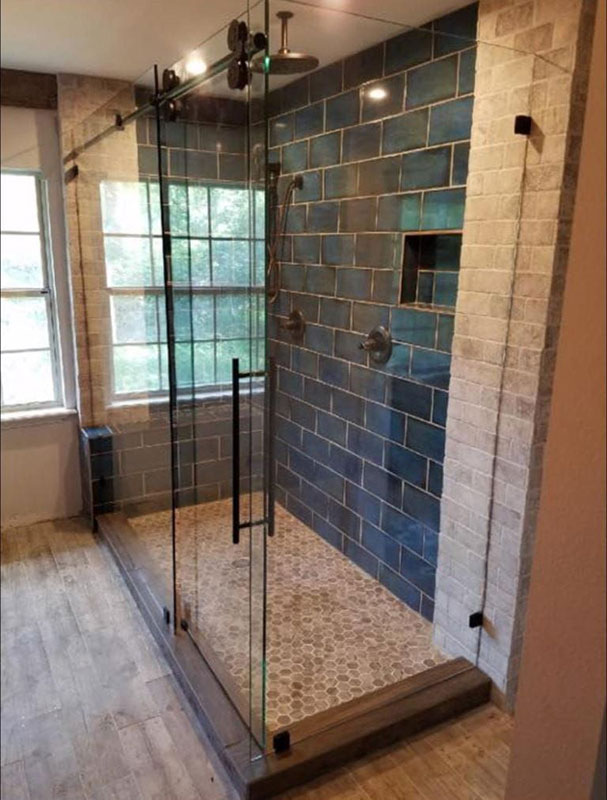 These shower doors are a must-have for your bathroom.
Bathrooms are no longer an afterthought, designed purely for function. Modern bathroom design is sleek and elegant to promote a sense of luxury and relaxation. Your home is your castle, and your bathroom is a designer spa.
Frameless barn shower doors are an essential part of modern design. They offer a sleek, almost futuristic look with the functionality of bypass sliding doors. Many frameless shower doors are hinged and open into the room, but barn shower doors conserve space by sliding past one another without using cheap plastic rollers on bulky, ugly frames.
Barn style glass shower doors use sturdy metal wheels to roll smoothly and silently along a metal rod. The doors and hardware are as durable as they are beautiful. This isn't clunky – often flimsy – metal hardware of yesterday. These wheels and rods would look right at home in the most expensive homes or spas you can imagine.
Another great feature of frameless barn shower doors is that they can be custom cut to fit just about any size shower enclosure. If your home is being built, frameless barn shower doors are just what you need for your bathroom. If your current shower enclosure has a simple shower curtain or old, framed shower doors, barn-style glass shower doors can be customized to fit your space.
Call Baker Glass Today for Your New Barn Shower Doors
You can order just about anything from the internet, and that includes glass shower doors and barn-style shower door hardware. If you order it then you have to figure out how to install it. Make sure you get exactly what you want, and call Baker Glass Inc. in Jacksonville FL today! We offer FREE quotes on all glasswork. We will come to your home, measure the space, custom-size the doors and expertly install everything.
Call Baker Glass Jacksonville FL Today for Custom Barn Style Frameless Glass Shower Doors – 904-413-9764!
Baker glass can turn just about any shower or bath space into a custom glass shower enclosure. Call today!
Contact Baker Glass Today for Quality, Reliable, Glass Services in Northeast Florida