Skip to Content
Frameless Glass Shower Doors by Baker Glass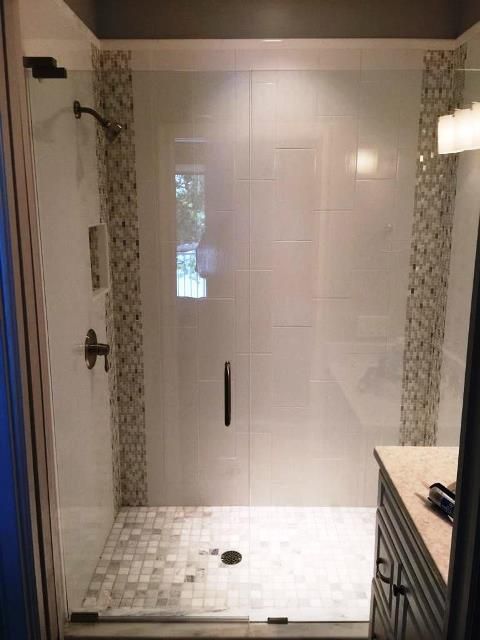 Frameless glass shower doors and enclosures bring a modern, elegant look that appears larger and more open. Why not extend the luxury of the rest of your home into the bathroom? A bathroom doesn't have to be a utilitarian room with no creativity. Today's planners and home builders put as much thought and creativity into bathrooms as every other room. Frameless glass shower enclosures will give you a bathroom worth showing off.
Frameless glass shower doors do not use metal in their construction, so you will never have to replace rusted or corroded parts. Traditional doors use their frames to slide open and closed. Frameless shower doors, however, almost always swing on hinges, creating an interesting, more modern design.
A lack of a metal frame around the glass does not create a safety issue, though. All the glass's edges are filed to a rounded, smooth finish, meaning there are no cuts or scrapes from the glass. Your bathroom gets a modern, open look – and you get a durable, safe, luxurious shower enclosure you will want to show off.
Endless Possibilities for Your Bathroom
Bathrooms are larger and more open than ever before. A frameless glass shower enclosure gives the whole room a clean, elegant look that appears larger than it really is. The metal frames of traditional shower doors create hard lines that close off the room and make it feel compartmentalized.
Frameless shower doors are not as noticeable as traditional doors, and this helps incorporate the shower into the rest of the room without distraction. It also helps show off the intricate tile work and beautiful fixtures you chose so carefully.
Frameless shower enclosures can be custom-cut to fit any shower or bathtub. Turn your bathroom into an upscale spa that will be the envy of everyone who sees it!
Add even more luxury to your bathroom with custom wall mirrors from Baker Glass!
Contact Baker Glass Jacksonville FL today at 904-413-9764 to find out more about the latest innovation in bathroom design.
Contact Baker Glass Today for Quality, Reliable, Glass Services in Northeast Florida