Skip to Content
Reflective Glass Application in Jacksonville, FL
Are you designing your next commercial building in Jacksonville, FL? Do you need a high-performance storefront, hotel room glass, or restaurant windows? Reflective glass could be perfect for your needs. Explore what this innovative material is, the benefits it brings to your project, and its many uses in both interior and exterior applications.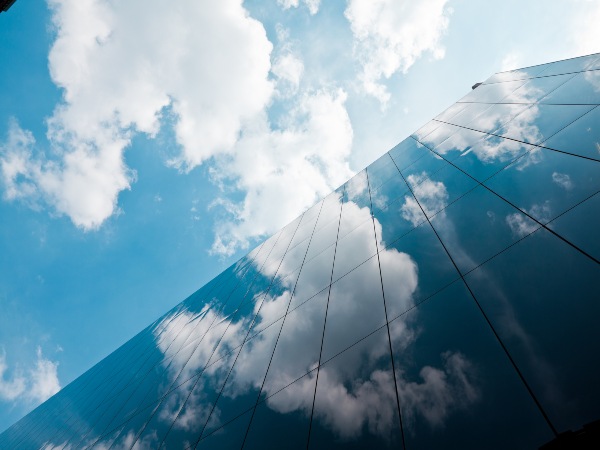 What is Reflective Glass?
Reflective glass is standard float or annealed glass with a thin metallic coating intended to combat excessive solar glare. This is typically accomplished through one of two methods: the pyrolitic (online) process or the vacuum/magnetron (offline) process.
In the pyrolitic process, metal oxides responsible for tinting or shading are applied directly to the hot glass while it's still within the annealing lehr (or furnace). The coating fuses with the glass as the furnace reaches 2200 degrees F. This method lends the glass strength and durability, making it easy to cut, drill, heat-strengthen, or toughen afterward. These hard coatings are sustainable, eco-friendly, and cost-effective.
In the vacuum or magnetron process, one or more metal oxide coatings are applied to the finished glass under vacuum conditions. These coatings are softer and more susceptible to damage, so they're applied on the inner side of double-pane windows to protect them from the elements.
Benefits of Using Reflective Glass
Reflective glass isn't just about battling the relentless Florida sun. If you upgrade to this product, you can expect a host of benefits for your building, including:
Anti-glare features: Reflective glass windows offer a peaceful indoor environment by reducing harsh solar glare and allowing the optimal amount of sunlight to infiltrate the glass. The tint eliminates the need for blinds, creating an enhanced sense of space.
Energy efficiency: Reflective glass with a low-e coating bolsters your building's energy efficiency, reducing energy bills, enhancing temperature comfort, and minimizing the need for artificial lighting. Your building may even earn LEED status and Energy Star credits if you combine non-glare glass with other efficiency-boosting solutions.
Varied color choices: Reflective glass isn't one-size-fits-all. Choose from numerous shades like bronze, silver, dark grey, green, and blue. With so many choices, it's easy to coordinate with your structure's framing, paneling, or stonework.
Beautiful appearance: Few sights are more striking in an urban skyline than a stunning glass office building. The reflective glass of your structure's exterior changes with the evolving sky. At dawn, it mirrors the breathtaking sunrise, while at dusk, it captures the blazing sunset. This ever-shifting appearance turns your building into an alluring piece of art.
Privacy: Besides its aesthetic appeal, reflective glass provides privacy by acting like a one-way mirror, making the inside hard to see from the outside. This allows building occupants to enjoy panoramic views without giving up their privacy.
Summer comfort: Reflective glass cuts back on solar glare and heat while allowing plenty of natural light to filter through, improving thermal comfort. This makes it ideal for buildings exposed to intense sunlight, particularly during Florida's sweltering summer months.
Health benefits: The hue of reflective glass isn't just for visual appeal or indoor comfort. The coating also prevents ultraviolet (UV) and infrared (IR) rays from penetrating the glass, protecting occupants from their harmful effects. Reflective glass also extends the life of your upholstery, carpet, and wall finishes by preventing premature color fading.
Applications for Reflective Glass
With its anti-glare properties and UV and IR protection, reflective glass offers numerous architectural applications. In building exteriors, reflective glass is widely used for:
Office building facades
Storefronts
Restaurants
Hotels
Gas stations
Shopping malls
Educational institutions
Air traffic control towers
Some interior uses for reflective glass include:
Picture framing
Display cabinets
Privacy windows for meeting rooms
Tabletops
Closets
Interior partitions
Shower enclosures
Shelves
Decorative wall panels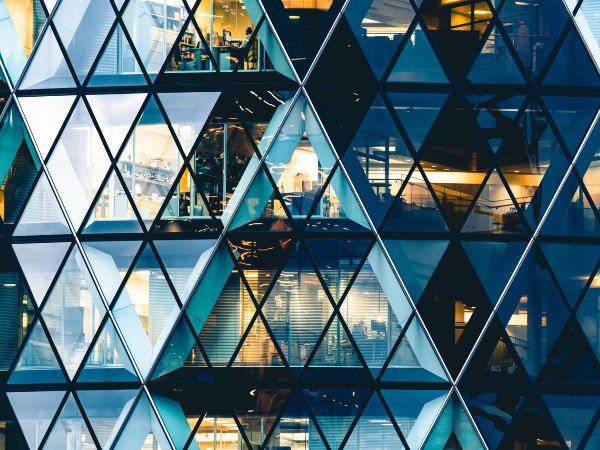 Contact Our Glass Experts to Learn More
Reflective glass can transform your building design, making it more functional, comfortable, and aesthetically pleasing. If you're considering reflective glass for your next project, turn to Baker Glass for exceptional installation service. As industry leaders serving Jacksonville, FL, for 30 years, we're committed to providing the highest quality commercial glass solutions, whether you're constructing a new building or renovating an existing one. Call our professionals today at (904) 388-9126 for help taking your building design to the next level.
""
Contact Baker Glass Today for Quality, Reliable, Glass Services in Northeast Florida